A very strange thing happened yesterday. Steve and I were stopped at a light, just talking.  The light cycled and the car in front of us did not move.  Steve honked, but the car still didn't move.  The cycle completed, I got out of the car and tapped on his window, with visions of having to call 911 dancing before my eyes.  The poor driver was just slumped in his seat, face up, eyes closed.  I rapped very hard on the window and he jerked upright…  He had fallen asleep during the red light!  He said that he was all right, and drove off after the light turned green again.  He did take the next turn after the light, which was an apartment complex, so that turned out well.  Still it kind of freaked me out.
Anyway…
The last time I saw my camera accessory pouch, the one with the cable, battery charger and tripod, was when I uploaded the pictures of our items at the Mother-in-Law's house on Thursday.  I've promised myself I'll take more pictures on Tuesday, and she has a digital camera.  Failing that I can use my iPhone.  One way or another there will be a shop update this coming week, otherwise I feel as though I haven't given it a real try.  So far there's been a few hits, and a favorite of the beaded earrings…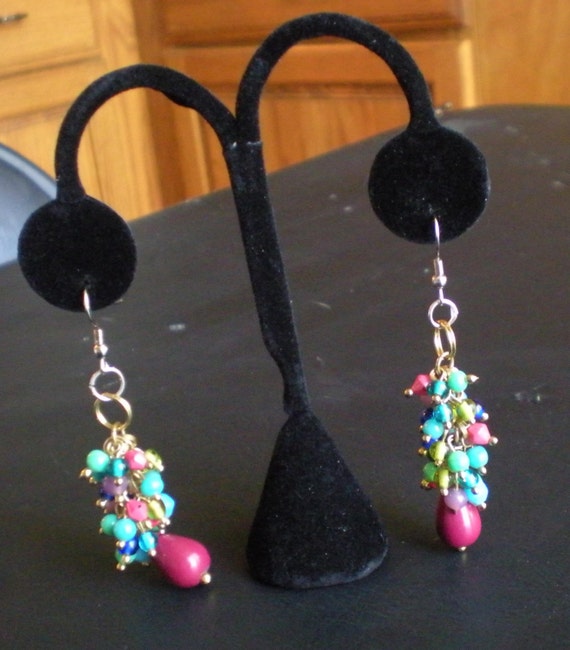 Anna (Czech Beads Exclusive) has shown her appreciation.  Jan and I will definitely be checking out her stuff.
Finished Object
I have been knitting even while on my blog hiatus. Also spinning.  I've been doing pretty well with it, actually.
This slideshow requires JavaScript.
First I spun the mystery fiber which came with my beautiful Geode spindle, which came out that weird and wonderful 'first spinning' weight.  Then I managed some worsted weight out of jacob and alpaca.  Then I got a turkish spindle from Turtle Made and spun about 100 yards of fingering weight.  I also played a little bit with my gorgeous phang from Tinas Angoras and came up with a dramatic finnsheep angora mix.
And now I have a wonderful, very funky, homespun hat.